At a slower Halloween weekend box office, Warner Bros./Legendary's "Dune" held in first place with $ 15.5 million on its second weekend, as four specialty distributor films opened lower in the charts. lists.
"Dune" now has a 10-day national total of $ 69.4 million and a global total of $ 292 million. Theatrical earnings will be minimal for the film, particularly considering that full IMAX support for the film, which has accounted for $ 17 million of the film's gross internal revenue, will end when "Eternals" opens on Friday.
But that hasn't stopped Warner Bros. and Legendary from giving the green light to a sequel to Denis Villeneuve's blockbuster with a release scheduled for October 2023. While Warner's on-day and date-release strategy is having a certain impact on the film's box office, its 62% drop on weekends is better than that of other major studio releases this year, such as "Space Jam: A New Legacy" and "The Suicide Squad," which had 70% drops in the second weekend after earning the first weekends of $ 25-26 million.
Warner Bros. is playing long-term with "Dune" in the belief that it will help increase streaming subscriptions, as well as interest in "Dune: Part Two" when it comes out in a (hopefully) COVID-free market. With strong word of mouth and Oscar buzz, the movie can take many months for audiences to discover, even if it doesn't make it on the big screen. The decision to move forward to make "Dune" a franchise is an example of how box office numbers are now just one piece of a larger puzzle in determining the profitability of a movie in the streaming age.
Below "Dune," four new films have entered the Top 10. The highest is Funimation's "My Hero Academia: World Heroes Mission" at No. 4 with an estimated opening of $ 6.5 million from 1,600 locations. The third film based on the hit manga / anime series is slightly above the $ 5.8 million release of "My Hero Academia: Heroes Rising" in February 2020 and continues Funimation's recent success in bringing movies from the best franchises in the world. animate to American theaters.
Tied for sixth on the charts are Focus Features' "Last Night in Soho" and Searchlight's "Antlers," each with an opening total of $ 4.2 million. Of the two horror films, "Soho" has had the best reception with a B + in CinemaScore and Rotten Tomatoes scores of 73% of critics and 92% of the public, compared to a C + and a division of 61%. / 70% for "Antlers". "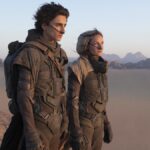 Rounding out the Top 10 is another Searchlight release, "The French Dispatch," with $ 2.8 million from 788 locations. Wes Anderson's film expanded to 60 cities this weekend after posting the highest average per theater of the year in just 14 cities last weekend. The film will expand nationally next Friday.
Among the holdovers, Universal / Blumhouse's "Halloween Kills" had a better grip on its third weekend in theaters, displacing "Soho" and "Antlers" to be the horror film of choice for audiences looking for seasonal scares. It ranks at No. 2 this weekend with $ 8.5 million, bringing its national total to $ 85 million and its global total to $ 115 million.
Third is MGM's "No Time to Die," which totaled $ 7.8 million in its fourth weekend, bringing its total to $ 133 million nationwide. Overseas, the Bond movie scored a decent $ 28 million premiere in China this weekend, though 13% of the country's cinemas are closed due to new COVID-19 outbreaks. With $ 59.7 million raised worldwide this weekend, "No Time to Die" has crossed the $ 600 million mark at the global box office with $ 605.8 million raised, representing the fifth highest place this year.
Rounding out the Top 5 is Sony's "Venom: Let There Be Carnage" with $ 5.75 million for a nationwide total of $ 190 million after five weekends. With $ 395 million raised globally so far, the film will surpass $ 400 million on Monday and is on track to surpass the global total of $ 422 million for Marvel's "Shang-Chi" this week. It's also 13% ahead of "F9," the highest-grossing Hollywood release this year, in comparable markets.
As expected, overall box office revenue took a big hit this weekend, dropping 31% to around $ 66 million. Analysts who spoke to TheWrap attributed this in part to potential audiences spending Halloween away from the movies after having to spend the holidays at home last year during the COVID shutdown.
But the other factor is the lack of major new releases, which always happens the weekend before a Marvel Studios movie hits theaters. Next weekend, "Eternals" is expected to resume business with a north opening of $ 70 million, though its tepid 60% critics on Rotten Tomatoes may be a sign of long-term trouble for the box office success of. Chloe Zhao if the reception from the audience is equally mixed.

Reference-www.thewrap.com