'If Mr. Depp was truly innocent, why has he repeatedly apologized to Ms. Heard,' actress blasted back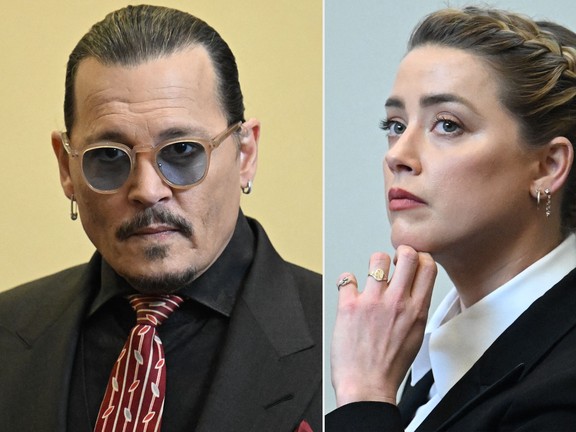 Article content
Following Amber Heard's incendiary testimony this week, in which the actress alleged her ex-husband Johnny Depp sexually assaulted her with a bottle and physically abused her throughout their tumultuous relationship, both stars are lashing out at one another in the media.
Article content
"As Mr. Depp's counsel correctly predicted in their opening statements last month, Ms. Heard did indeed deliver 'the performance of her life' in her direct examination," a representative for Depp, 58, told PEOPLE.
"While Ms. Heard's stories have continued to grow new and convenient details, Mr. Depp's recollections have remained exactly the same throughout the six painful years since her first allegations were made," Depp's spokesperson continued. "His truth about her — the truth — is the same no matter the environment in which it has been presented."
In response, a spokesperson for Heard, 36, issued a statement to the toronto Sun in which they said Depp's "defamation claim is falling apart so rapidly that his counsel are turning from prosecutor to persecutor."
"They boast that Mr. Depp's story has not changed. If so, since he lost the Domestic Violence Restraining Order and he resoundingly lost the libel case in the UK, perhaps he should consider a new strategy rather than the recycled approach of attacking the victim, and refusing to take responsibility for his own conduct."
During her testimony this week, Heard painted a picture of an allegedly controlling and abusive Depp, who, as he was known to the world as one of Hollywood's biggest film stars, was a Dr. Jekyll-Mr. Hyde-like "monster" behind closed doors.
During a 2014 flight from Boston to Los Angeles, Heard alleged that Depp kicked her from behind in a jealous rage over intimate scenes she had filmed with actor James Franco.
"No one did anything. I felt so embarrassed that he could kick me to the ground and no one would do anything about it," she said tearfully.
Article content
Another time, Heard described Depp's tantrum when he accused her of flirting with someone at the 2014 Met Gala in New York. In their hotel room after the event, the pair got into a physical altercation.
"Johnny shoved me and grabbed me by my collarbone. I think at that point I shoved him back. I remember he threw a bottle at me, it missed me, but it broke the chandelier," she said.
"He shoved me down on the sofa and at some point he whacked me in the face. I think that was the first time (where I thought), 'Is this a broken nose?' I remember my nose being swollen, discolored and red."
Elsewhere in her testimony Thursday, Heard spoke about allegations that Depp abused her with a liquor bottle during an explosive fight in 2015 and threatened to "f—ing kill me."
"I didn't know if the bottle he had inside me was broken," she said. "I couldn't feel it. I couldn't feel anything."
Article content
'DID HE JUST KICK ME?': Amber Heard recounts bruising fights with Johnny Depp

Johnny Depp goes viral after doodling at defamation trial: 'THIS DUDE'S A STUD'

Johnny Depp bursts out laughing after bodyguard asked about his penis

Amber Heard admits poop left for Johnny Depp was 'a horrible practical joke'
But in a statement from Depp's rep, they say when Heard faces questioning from the actor's legal team, doubts will begin to form as to the veracity of her accounts of the events in question.
"The upcoming cross examination from Mr. Depp's team will be most telling, and will certainly highlight the many fallacies Ms. Heard has now attempted to pass off as fact throughout her convoluted testimony."
But Heard's legal team took a swipe at Depp, using his own words about battling a "monster" within to explain his allegedly abusive behaviour.
"If Mr. Depp was truly innocent, why has he repeatedly apologized to Ms. Heard and promised to put the 'monster away for good?'" they wrote in a statement obtained by the Sun. "One of Ms. Heard's disappointments is Mr. Depp's inability to distinguish fact from fiction – a malady which appears to have spread to his legal team from him. That same team is so panicked they are fighting tooth and nail to prevent compelling evidence and photos from being introduced.
"Small wonder Mr. Depp does not have the fortitude or courage to even look at Ms. Heard at all throughout the proceedings – as he could not in the UK trial – and, instead he doodles and snickers."
With the trial breaking until May 16, social media users dissected Heard's time on the stand, with some accusing the Aquaman star of copying elements of her testimony from movies like The Talented Mr. Ripley and gone girl.
One viral post making the rounds, featured a clip of Gwyneth Paltrow's character saying, "The thing with Dickie, it's like the sun shines on you, and it's glorious. And then he forgets you and it's very cold."
In her testimony, Heard said Depp made her feel "like the most beautiful person in the world" at points during their relationship, which began in 2011 before ending in divorce in 2016.
Article content
Other Depp supporters on social media, accused Heard of mimicking Amy Dunne from gone girlwhich was about a woman who staged her own disappearance and framed her husband to keep him from leaving her.