Dwayne Johnson finally makes his superhero debut in this week's "Black Adam," but the wildly in-demand actor and producer has been plotting this anti-hero role for over a decade, navigating the changing landscape of not just superhero movies in general, but the regime structure at Warner Bros. and DC to bring a gritty, nearly R-rated iteration of the character to the DC universe. The trajectory of the long-in-the-works film began with a Black Adam/Shazam movie combo, but the franchise's future could find Johnson squaring off against the biggest DC heroes around.
The story of "Black Adam" officially begins back in 2007, when Johnson – who at that point was still building his acting career with films like "The Rundown," "Doom" and "Southland Tales" – revealed that he was playing Black Adam , at that point in time for his "Get Smart" director Peter Segal who was attached to the project.
For "Black Adam" producer and president of production at Seven Bucks Productions Hiram Garcia, this was a chance to make a dream come true. "What starts as a small conversation and a dream and sharing comic books and looking at storylines that we liked became a moment where we started to live in an industry where these movies were now starting to become a thing," he told TheWrap. Garcia and Johnson are lifelong friends, and Garcia in particular has always been a comic book fan, so getting Johnson onscreen as Black Adam became a passion project for the two of them as the former wrestling star made his way to the big screen.
"We were already doing some good things with New Line at the time, who had the rights to these characters, and starting to kind of plant a flag in the ground of, 'We really want to bring Black Adam to life' and 'What's the best path that we can do this?'"
That path was one filled with zigs and zags instead of a straight line.
Initially, the idea was that Johnson would inhabit the role of Black Adam – an anti-hero who does out his own sense of justice – in a film alongside the character's foil, Captain Marvel (aka Shazam) a teenage boy who, when he utters the word "Shazam," transforms into an adult superhero. Garcia said that as Johnson's star was rising in Hollywood, there was even a moment where the idea was floated for the actor to play both characters.
But it soon became clear that introducing Black Adam and Shazam in the same movie was going to have some serious challenges.
"Both those guys just needed more space for their story to properly be told," Garcia said. "And they needed their respective tones that were just a little bit more appropriate for those characters. We wanted Shazam to have that younger family vibe to it, but we wanted to have the freedom with Black Adam to really go edgy and a bit darker and a bit more violent."
The version of Johnson's DC debut in which he co-starred with Shazam got to the script stage, but the tonal clash became insurmountable.
"It was a mashup of tones. It connected the two characters a bit more," Garcia said of that screenplay. "It fed off a little bit more of some of the comic book lore in terms of how these guys connected, but ultimately the tones clashed. Also, each character didn't feel like they were getting enough screen time to properly set them up in a good way."
When they tried a version of the story that split the characters up into two different films, it suddenly all clicked into place.
"The minute we split them up, they both took off," he continued. "You just realized they were holding each other back because it was such a struggle to make those stories work, and the minute we split them apart, we had already done so much development on Shazam, Shazam really took off and just went because that story was basically broken. And then we really picked up traction on Black Adam, in terms of being able to make the version of the story we wanted. So it was the best thing possible."
"Shazam!" moved forward quickly in 2017, with Zachary Levi cast in the title role and David F. Sandberg coming onboard to direct. Johnson and Seven Bucks remained involved as producers, but the DC film embraced the more family friendly tone of the story of a teenager who can morph into a hulking superhero.
Meanwhile, Johnson and Co. continued to develop the standalone "Black Adam" while Warner Bros. and DC considered the best way to introduce this character into the DC universe.
Rumors swirled that Johnson's Black Adam might be introduced in the first "Suicide Squad" movie, but Garcia said that notion never got past the discussion phase. "There was talk of him being utilized right at the end of something, but it was just conversations and that was many regimes ago."
Adam Sztykiel was tasked with writing the script for the "Black Adam" movie, and separating the character from Shazam was the first step to unlocking the film.
"That was the first thing that just really clicked and shifted for us. That allowed us to start getting traction because then what ultimately happened was now we were able to play holistically in the tone that we wanted," Garcia explained. "The entire movie now was coming with the approach of an edge and a darkness and a little bit more grit that we weren't able to exercise before when we had both characters merged together. And it just felt like from that point on, things really started to pick up and then there were story points that started to fall into place."
One key story point was where in Black Adam's history to follow the character. Black Adam's origins in the comics are in ancient Egypt, but he also comes into play in modern day.
"There are so many iterations of how Black Adam comes to be. We found a space we really liked that felt thematically right for us and also was a really interesting place for Dwayne to anchor his character for his performance of how Black Adam comes to be, and the journey and the emotional baggage he's carrying with him through the movie that he's ultimately trying to evolve through."
Indeed, "Black Adam" begins 5,000 years in the past and shows the character's origins in the ancient city of Kahndaq before waking him up in the present, and having Black Adam brush up against the modern world as the Justice Society of America – a team of superheroes – tries to teach him how to be a hero.
By 2019, the production team had found their director in Jaume Collet-Serra, who was working with Johnson, Garcia and Seven Bucks on Disney's "Jungle Cruise." For Garcia, it was Collet-Serra's experience in genre films like "Orphan" and "The Shallows" that made him the right fit for "Black Adam."
"The great thing about Jaume is he cut his teeth in genre. He came up making these great genre films, he knows scares, he knows edge, he knows tone so well," Garcia said. "And coming off 'Jungle Cruise,' he really had a crash course in making a really big visual effects movie so it was a perfect combination of him coming onboard and his understanding of the tone we wanted to do with 'Black Adam' and how we still wanted to, while making this an edgy, violent film, make it for a big global audience and have some of those sensibilities."
They hit upon the film's cinematographer, Lawrence Sher of "Joker" fame, when Sher shot reshoots for "Jungle Cruise," and "Black Adam" was off to the races with an aesthetic Garcia describes as "a Western merged with a 'Dirty Harry 'movie."
Casting up the Justice Society of America around Johnson was key to building "a new era of the DC Universe," Garcia said. "To All the Boys I've Loved Before" breakout Noah Centineo was enlisted as Atom Smasher and Quintessa Swindell ("Trinkets") as Cyclone to offer a younger prism through which the "Black Adam" story could be told, and Pierce Brosnan as Doctor Fate and Aldis Hodge as Hawkman to add additional thespian heft.
But while introducing a new iteration of the DC Universe that also has ties to the exiting universe, what kind of pressures were put on "Black Adam" to be more or less connected to what had been established? Especially as Warner Bros. was seemingly pulling back from some of the creative decisions Zack Snyder had made in "Man of Steel," "Batman v. Superman" and his version of "Justice League."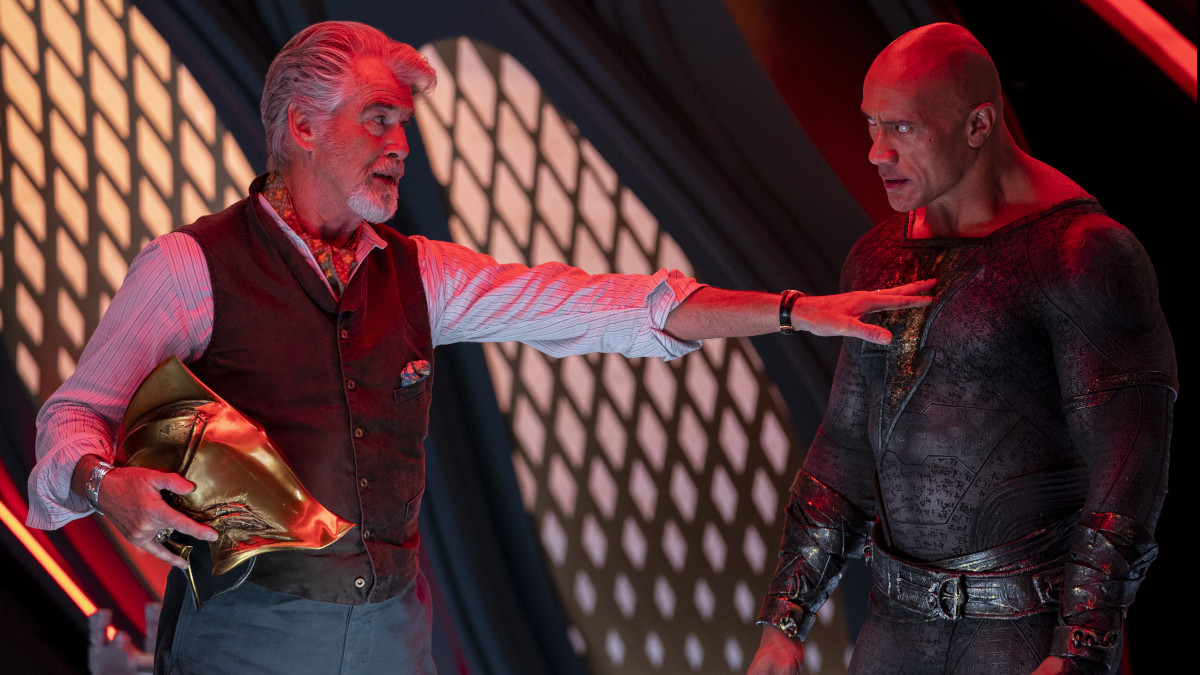 "Luckily for us, we've had a couple of really steady anchors, one being Richard Brener, who's the head of New Line, who was always by our side, who has been steady and an amazing partner all the way through that helped us maintain stability," Garcia said before adding that the various DC regime changes came with differing guardrails.
"There were changes with some of the regimes that have come and gone that had tried to set up some guardrails, some that had used different ones," he explained before adding that they maintained their "very specific vision" and "were able to hold the line" against pushback to some of their creative decisions.
Which decisions would those be? Garcia was wary of discussing spoilers but pointedly added that fans will be able to see their efforts onscreen, "especially when you watch the whole movie through."
So what's next for Black Adam?
Garcia allowed that they have "a ton of ideas" for where the story goes next in a potential sequel but added that nothing moves forward until the audience responds at the box office.
"If, God willing, the audience receives the movie the way we think they're going to and they ordain us to continue going forward, we definitely have some big ambitions in terms of the storytelling that we want to do and how we want to start to roll out a big, fun storyline for all these characters as we expand that universe," he said. "We wouldn't be doing our job if we weren't prepared for it, but we're just waiting for that greenlight from the fans and audience reception to be able to jump in."
one thing fans dog look forward to seeing if "Black Adam" is a hit is the eventual clash of Johnson's character and Shazam onscreen that was scuttled all those years ago.
"In our mind, at some point, all these characters should be able to cross paths and that's the fun thing about introducing Black Adam to a world that is filled with so many familiar heroes, but there aren't any anti-heroes that are as powerful as Black Adam," Garcia said. "When a powerful person like that appears, it just commands everyone's attention. It's hard not to recognize that there's a new player on the board, and you feel that a bit in our movie that his arrival really awakens a lot of people.
To put it more plainly: Yes, Garcia and Co. are ready and rare to get Johnson's Black Adam onscreen opposite Jason Momoa's Aquaman, Gal Gadot's Wonder Woman and possibly, maybe, hopefully…Superman.
"Black Adam" opens exclusively in theaters on Oct. 21.

Reference-www.thewrap.com