Note: This story contains spoilers for "Grey's Anatomy" Season 19 Episode 12."
"Grey's Anatomy" wasted no time resolving the big cliffhanger from last week's episode and featured one of the series' most ambitious opening sequences in the process.
Kevin McKidd, who has been a series regular on the ABC medical drama since Season 5 and frequent director, helmeted Thursday's Season 19 episode titled "Pick Yourself Up," in which viewers saw the immediate aftermath of a hit-and-run outside the hospital's free clinic that threatened the lives of Dr. Addison Montgomery (Kate Walsh) and a pregnant OB-GYN fellow played by Jess Gabor.
The opening sequence featured an elaborate one-shot view as the doctors of Gray Sloan Memorial mobilized to save the victims of the attack, from getting them out of the ambulance, to the emergency rooms where they were treated and the moment when the doctors decide to open the fellow up to get her baby out and attempt to save both of their lives.
For McKidd, the elaborate opener was the manifestation of an idea he'd been ruminating on for years as a director on the show.
"I've been pitching this idea to the writers for years. I always try to push the envelope in my directing of the show," the actor told TheWrap. "It was challenging, and my character's in that whole one-shot [scene]. I've never worked as hard as an actor or as a director than I did on that day."
The episode marked the concluding chapter of a two-part event that saw Addison return to Gray Sloan Memorial to help Dr. Miranda Bailey (Chandra Wilson) with training out-of-state OB-GYN fellows on procedures and techniques they can't learn properly in states where the aftermath of the overturning of Roe v. Wade has led to the closure of clinics and other providers of such care. Addison gained public notoriety since her last appearance on the show, as she worked across the country to provide care to patients while on the road. But her attention led to her being targeted by anti-abortion advocates and culminated in the hit-and-run.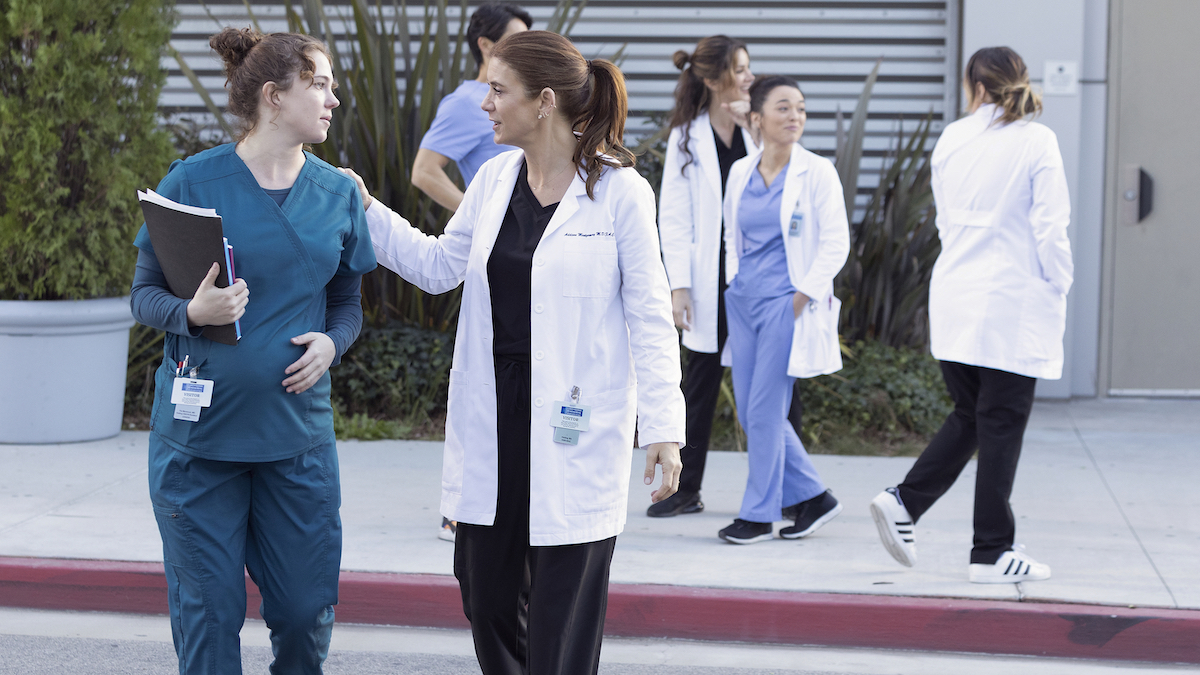 The doctors were able to save Addison, the fellow and her baby, and the final moments featured Addison picking herself up and driving away in her mobile treatment center to keep her work moving forward.
Read more below from McKidd about directing the opening sequence, what he hopes audiences take from the episode and why he and his character Owen Hunt have "no intentions of going anywhere" as the show gears up for its 20th season.
The Wrap: Take me through the process of directing the opening sequence. What was the journey to execute this vision like?
McKidd: I've been pitching this idea to the writers like "let's do an episode where each act is one continuous shot [we have six acts in each episode on our show]. So an episode is written and directed to be just one continuous flowing shot, no cuts—or maybe a hidden cut but really, ideally, just one long shot.
I read this episode and this scene was so immediate. It just screamed at me that this whole first act could be done in one shot. We've never done that on our show. So I pitched it to [showrunner Krista Vernoff], I pitched it to everybody that I could grab and Krista heard me and she said 'let's do it.' You know if there's any time to do it, it's Season 19 of the show.
I conceived and rehearsed that over a long period of time, and used stand-ins to polish it and finesse it and lost sleep over it. And we rehearsed it with the main cast for a whole half a day before we actually shot it, as this big sort of almost theater-style rehearsal because every single piece had to be perfectly timed, because all scenes were happening simultaneously and there was no cut. And the Steadicam operator had to come in and rehearse, rehearse, rehearse.
So yeah, that was the conception. It was such an immediate, visceral moment to try and save this pregnant woman and her baby from her after being run over. It seemed like the perfect moment to do this whole thing as one, very immediate shot. It created this energy with all the actors and the crew and everybody, there was this energy on the set that was hard to describe … everybody was like, "we know we have to get this right. We can't mess up, we have to be on point." So the focus and the energy and the intensity was really palpable. I think that it comes off when you watch it.
It was challenging, and my character's in that whole one-shot. I've never worked as hard as an actor or as a director than I did on that day.
It's a testament to your ambitions, both as a performer and as an actor, because you were in the middle of all the action of the scene and directing it at the same time. How was that multitasking for you?
Usually it's fine, I've gotten used to it. In this instance it was really hard, because it was almost like I just had to set off the firework that I built, and trust that it was going to play in the right way. We ended up actually only doing two takes. We got it on the first take and everyone was delighted. I remember [executive producer Debbie Allen] said, "I think we've got it. You don't need to do another one." But I said we should do one more. And the second take, there's just a few things that maybe nobody else would notice, but I noticed and just improved it 10%. So the take that aired is Take 2 of the two takes that we did.
But it was very hard, my eyes were everywhere. Whenever I wasn't on camera, my eyes were darting to where the camera was, making sure it was in the right position. And yes, my brain was very, very challenged.
The doctors saved Addison, the OB/GYN fellow and her baby, a rare outcome for when tragedies like these strike Gray Sloan. What are you hoping viewers will take away from the outcome of this two-part storyline?
I think it's gonna make people really take notice of these issues that are happening right now. You know, it creates a dialogue for people, it shows the human side. What I love about our show is that we really show the cost — like during COVID — the cost that all these things that have happened out in the world has on medical practitioners: the stress it can bring, the mental health issues that can bring for people who work in the medical field.
You are one of the longest-running cast members in "Grey's" history, going all the way back to Season 5. How much longer do you see yourself, and Owen, on the show?
I don't know. I mean, I still love playing the part. i think [Owen is] a challenging and quite polarizing character, which I like. He isn't perfect and he makes mistakes and he can be strong-willed, but he also has a big heart. You know, he's a paradox. I love the cast. I love the work environment here. And I'm really, really proud of the show and what it stands for at this point, and the quality that we've kept up, so I have no intentions of going anywhere. And I love to direct as you can see, so long may that continue.
The show was just renewed for Season 20. Where do you hope to see Owen, and the show overall, go from here?
It's incredible for a show to last this long. You know, this will never happen again in my career, or in most actors' careers. So I think it's almost like we're in unmarked territory now. We've done so much on the show that you know, it's time to really think outside the box. Like doing a whole episode of six one-shot takes, you know, things like that. I think we're gonna really start to have fun and really sort of break the mold and take some risks creatively.
You've directed a lot of amazing "Grey's Anatomy" episodes through the years. What's your favorite one?
That's a really hard question to answer. I really, really love the [Season 17] Finale that was the Maggie and Winston wedding. There were just so many beautiful themes in the episode. I'm really proud of the way I shot it and some of the visual themes that came out. And it was a very cathartic episode, because by the time we actually showed that final episode, you know, some of the COVID restrictions were starting to lift and we could kind of see that light at the end of the tunnel.
We all had this wedding scene where we all had to dance at the end. First time anybody in a year and a half had been in a group of more than 10 people, and we're all in a tent on the beach, dancing and filming it with the sunset. So there's something really cathartic about that episode for me, I think for all of us. I just remember that release of everybody dancing was very emotional, very special.
But actually this episode, I feel creatively like I really took a big leap and pushed myself. So those two episodes I'm proud of, but this one especially because it's so fresh in my mind.
"Grey's Anatomy" airs Thursdays at 9 pm ET/PT on ABC.

Reference-www.thewrap.com